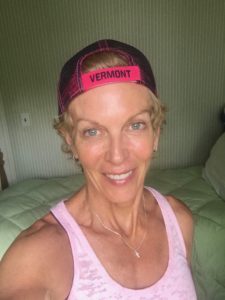 I was first introduced to yoga in 1967 by a family friend doing a headstand in the living room while waiting for dinner to hit the table. Growing up as a garden variety tomboy athlete, I was curious. He tried and failed to teach me to stand on my head that night, but I continued on and, well, the rest is history…
I began teaching yoga in 1978. I met my Guru and spiritual family while on a work trip to London in 1980, and then came home and got adopted here by the Integral Yoga Institute in New York City.  I certified with them and met their highest level of certification in 1983. I also hold certifications in meditation, fasting, the Ashtanga Primary Series, Viniyoga – which is a system of therapeutic, injury rehabilitation and restoration –  as well as Iyengar and Stand Up Paddleboard Yoga. I lived in and around the Integral Yoga Institute in the West Village from 1980 – 1988, and became a part of their Yoga Teacher Training Staff. I taught Anatomy and Physiology, Posture Sequencing  and Injury Prevention to the teacher trainees. I also helped rewrite and edit the IYI teacher training manual.
From there I moved to LA and taught at Yoga Works in Santa Monica as well as Karen Voight Fitness in the Hollywood Hills. I returned to NYC in 1990 and moved out to Westhampton Beach, where I was the Yoga Director at Sportime of the Hamptons in Quogue from 1990 – 1995. I left there to open my own studio in Westhampton Beach – Transform Yoga – and wow was that a great experience! The studio blasted along from 1995 – 2009, where I led retreats all over the world. I was also managing partner/director of a Yoga Adventure Retreat Center in Costa Rica for five of those years. What a great experience teaching yoga in foreign countries and introducing my American students to the deeper levels of yoga, fasting, and meditation on international soil.
So….it is now 2017. This marks my 50th year practicing yoga! I am amazed, blessed, and grateful to be continually drawn back to the mat to practice as a beginner each time. Teaching only deepens the practice, and brings me a deep sense of grace and spirit as I watch other people connect to their own authentic self. On the mat everyone is equal….
I have always said that my "rent" for the privilege of being on this planet is service to others. Teaching yoga is such a beautiful way to serve, and I am blessed to be a part of the staff at Buddha Beach Hot Yoga. Thank you, Kerri Rosalia, for being a bearer of light.