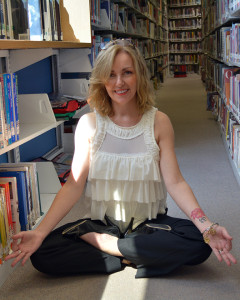 E-RYT 500
My passion for yoga began as a student and quickly transformed into a true desire to help others become their best and highest selves by becoming a teacher. I love to help students disconnect from the everyday demands of modern life and reconnect with the body, breath, and spirit. Yoga has changed my life in profound ways and I want to share that with you! Whether you join me for a beginner class, a vinyasa class, and ashtanga class or a stand-up paddleboard yoga class at our partner location (Silly Lily fishing station) I know we will grow in great ways together.
I received my 200 hr and 300 hr Yoga Teacher Training Certificates from the Always-At-Aum Yoga School and have been teaching for the past 8 years. Following my own love of Ashtanga Yoga, I completed my Ashtanga Primary Series teacher training program with David Swenson in 2016. I hold a 100 hr Hot Yoga teacher training certificate from Sayville Hot Yoga. In 2016 I also completed my SUP Yoga Teacher Training.
I love to explore all lineages of yoga, and have spent many hours in teacher trainings with Shiva Rea, practice often with Sri Dharma Mittra at his NYC studio, as well as learning from many wonderful Long Island-based teachers. I also learn every day from the wonderful students who practice at Buddha Beach Yoga!
I follow a compassionate vegetarian diet that is in keeping with my beliefs and yoga lifestyle. I understand Ahimsa to extend to all living beings. I currently have a house full of cats, dobermans, fish, and a snake named Charlotte. And yes they all get along (:
I hold a BA in English Lit from Dowling, an MLS from St. Johns U, and an MS degree in Information and Knowledge Strategy from Columbia U.
In addition to owning Buddha Beach Yoga, I am grateful to work as the Director of the Mastics-Moriches-Shirley Community Library. I have been an active Rotary member in various clubs for over 16 years. It is important to me to give back to the communities where I live and work in any way that I can. Rotary serves as a great vehicle for "Service above Self".
Did I mention I am Aquarius? As my profile shows, I am a typical Aquarian, following many paths, at one time. I need to get on my mat to stay grounded! Can't wait to see you on your mat soon!