Beach Yoga classes offered starting June 29, 2019. We are partnering with Get Salty Adventures to offer you a one-of-a-kind experience. Jump on board the Get Salty boat at the Silly Lily dock. Take a serene ride across the bay and a short walk over to the ocean, and we will teach a 60 minute beach class. No mat needed, just bring water, a large beach towel or two, and your sunblock. An amazing way to start your weekend mornings. Offered every Saturday and Sunday 7:45AM-9:15AM as well as on weekdays during holiday periods and by request. Please arrive 15 minutes early for this class. and meet on the dock at 7:30AM. The Get Salty Boat leaves the dock promptly at 7:45AM. Advanced registration is required. Limit 6 students per boat ride. Larger parties can be accommodated by private appointment.
Buy and book your Beach Yoga classes now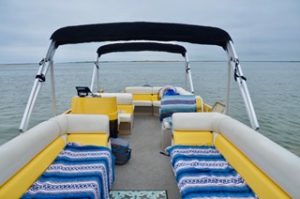 Learn more about Silly Lily here…
Learn more about Get Salty Adventures
Get started today by:
Purchasing a class or package online
Booking your specific class in our online schedule. This is very important as we have limited class sizes.
Please note, we require 24 hours notice for cancellations for boat to beach yoga bookings.
We also ask you provide us with an email address and cell phone number so we can reach you if classes are cancelled due to weather, including high wind. If classes are cancelled we will notify you approximately 1 hour in advance of your class. You can check for cancellations on our Twitter Account, Facebook Page and our online schedule.
Directions to the location from our studio? Simply head West from our parking lot on Montauk Highway to the second traffic light and make a left on Adelaide. Take it all the way to the end.